09.04.2018
Diamond Capital Management (Switzerland) Ltd.
Update on US-China "Trade War"
In the past month, trade tensions between US and China have taken a turn on the worse, especially since the start of Apr. Below is a timeline on key developments since beginning of March 2018 and our view, prepared by our Credit Research Team in Singapore: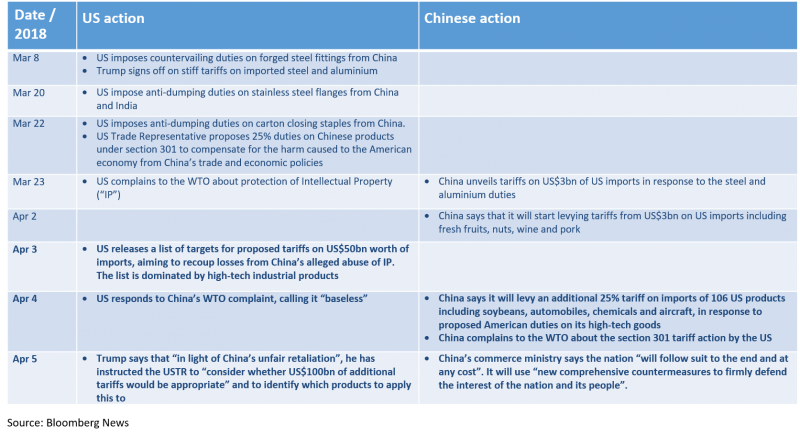 Further details on the tariffs (Source: Mizuho, Goldman Sachs)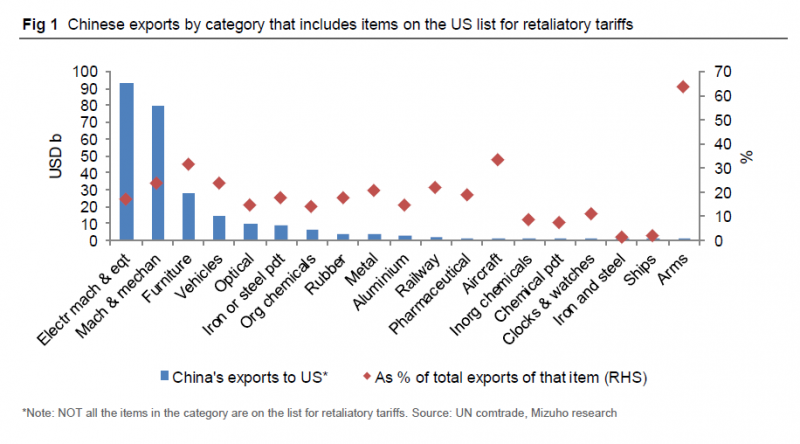 There are limits to Chinese tariff retaliation. After all, retaliatory trade restrictions are limited by the fact that the US only exports about US$150bn of goods to China but imports more than US$500bn.
However, China has hit where it hurts. China's plan to target US soybeans with a reciprocal tariff has led to pressure on the Trump administration, as US soybean farmers constitute an important supporter base for Trump and they have already declared their opposition to Trump's plan.
China also has other means of retaliation. First, currency depreciation could be used to offset some of the effect of tariffs. Second, China could sell some of its large official-sector holdings of US Treasuries, which would lead to a tightening of US financial conditions. Third, Chinese authorities could limit access for US companies to the Chinese domestic market, particularly in the services sector, where the US exports US$56bn annually and runs a US$38bn surplus.
Key takeaways/our view
Both China and the US have been tough in responding to the other party's announcement of reciprocal tariffs. On the other hand, both of them also suggest that there is a lot of room for negotiation (so far, all the tariffs proposed in Apr are just proposals). President Trump has even added that the US is still prepared to hold further discussions, and the Chinese government also proposes addressing the issue through negotiations under the WTO framework.
We believe, this is part of the negotiation process, and is done in order to obtain some advantage in negotiations between the two parties. Each of them, China and the US, will eventually scale back its list of reciprocal tariffs and we do not look for an all-out trade war between China and the US.
Please note our Angsana Asia HY Bond Fund is nominated as Finalist 2018 in "Best UCITS Credit fund" by Creditflux.
News